Breadcrumb Trail Links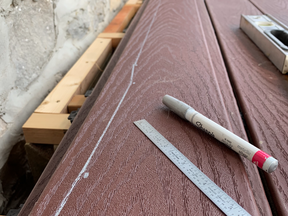 This composite deck board is marked for cutting so it will fit well against the irregular stone of this house. This particular project involved resurfacing and existing deck frame with composite. Photo by Photo Steve Maxwell
Reviews and recommendations are unbiased and products are independently selected. Postmedia may earn an affiliate commission from purchases made through links on this page.
Article content
If you're planning to build or rebuild a deck this year, I have something to warn you about. This warning is actually passed on to you from people who had all-wood decks built four or five years ago and beyond, but didn't know what they were getting into. "I wish someone had told me how much work it would be to keep my wooden deck looking nice!" is a phrase I read often in emails. It's the main reason people opt for non-wood options for the walking surface of decks, and it's the single biggest reason decks can look better than ever with less effort.
Advertisement 2
This advertisement has not loaded yet, but your article continues below.
Article content
Non-wood decking "lumber" can be made of composites (50/50 blend of recycled wood fibres and plastic) or entirely of plastic. I'll call both types "composites" to make things easier to follow, but in all cases the main benefit is the same. Composites eliminate the need for finishing and refinishing that outdoor deck wood requires if you want to stop it from looking like an old barn in time. That's simple enough. What's missing is an understanding of what to expect from composite decking. I'm a big fan of this material, I use it regularly in my own work, but it does take some education to understand all the reasons why.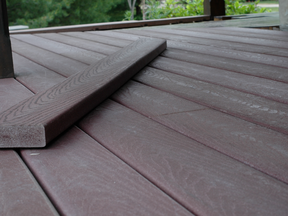 Even though the fake wood grain pattern on this composite deck board isn't going to fool anyone, it still looks nice. Today's composite deck material comes in a wide range of colours and textures. Photo by Photo Steve Maxwell
Making sense of cost
Composite decking typically costs more than most all-wood lumber, but you need to put this cost into perspective. When you pay extra for composites, you're actually buying your way out of all the prep work, finishing and refinishing cost and labour for the entire life of the deck. You're also buying yourself out of the annoying notion that "oh, I really need to get that deck refinished".
Advertisement 3
This advertisement has not loaded yet, but your article continues below.
Article content
When I built a wrap-around verandah on my own house, I made the floor from eastern white cedar. It finished beautifully, and even though I only had to refinish it once every three or four years, that still turned out to be too much work. I removed the cedar, gave the perfectly good wood away, and replaced the whole walking surface with Trex composites. That was a huge improvement. The freshly-finished cedar did look somewhat nicer than the Trex, but not considering everything involved in keeping that wood looking great.
Maintenance
Any deck that lasts less than 50 years before failing from rot was not built properly in my opinion. I know that a half-century lifespan is entirely possible because decks I built 25 years ago look as good today as they did when new. They should be around for at least another 25 years. Composite decking materials are entirely rot resistant, so they contribute big-time to full deck life. The thing is, composites can only be used for the walking surface of decks, not the support structure. For that you're still relying on wood for posts, beams and joists underneath. Check out baileylineroad.com/how-to-build-a-great-deck/ for construction details that extend deck life and make any deck design look much better.
Steve Maxwell loves spending time on his covered deck, especially when it's raining. Visit Steve online at BaileyLineRoad.com for thousands of made-in-Canada articles and videos on home improvement, tools and the creative lifestyle.
Share this article in your social network Advertisement 1
This advertisement has not loaded yet, but your article continues below.
By clicking on the sign up button you consent to receive the above newsletter from Postmedia Network Inc. You may unsubscribe any time by clicking on the unsubscribe link at the bottom of our emails. Postmedia Network Inc. | 365 Bloor Street East, Toronto, Ontario, M4W 3L4 | 416-383-2300 Thanks for signing up!
Comments
Postmedia is committed to maintaining a lively but civil forum for discussion and encourage all readers to share their views on our articles. Comments may take up to an hour for moderation before appearing on the site. We ask you to keep your comments relevant and respectful. We have enabled email notifications—you will now receive an email if you receive a reply to your comment, there is an update to a comment thread you follow or if a user you follow comments. Visit our Community Guidelines for more information and details on how to adjust your email settings.
Written by. Nick Mosier based on the original Japanese article (original article's publication date: 2022-05-19 18:47 JST)
Japanese solo game developer 727 Not Hound has announced that Playable Mockup is coming to Steam on May 25. The game will cost roughly 500 yen (around $4).
Playable Mockup is a 3D deck-building horror game about exploring an infinitely looping corridor. The setting of the game is the Dead Soul Corridor which was created from a ghost photo. Players will take pictures to solve puzzles with the goal of advancing time in the corridor from 12:00 p.m. to 12:00 a.m.
But taking photographs requires film, and if you run out of film, you're returned to the Gallery Room at the beginning of the corridor with the time reset back to 12:00 p.m. It's impossible to reach your goal with just the film you're given when starting the game.
You can also gain new abilities by taking pictures of the objects and paintings within the corridor. For example, taking a picture of the "Fast Clock" will advance time by 60 minutes and taking a picture of the ocean painting will increase the amount of film you have. Gathering these images, or building your deck so to speak, is how you will tackle the corridor.
The corridor contains creepy monsters that will harm players, so treading carefully is essential. One enemy is the Doppelganger which will die if a photo is taken of it, requiring players to watch their step as they take pictures.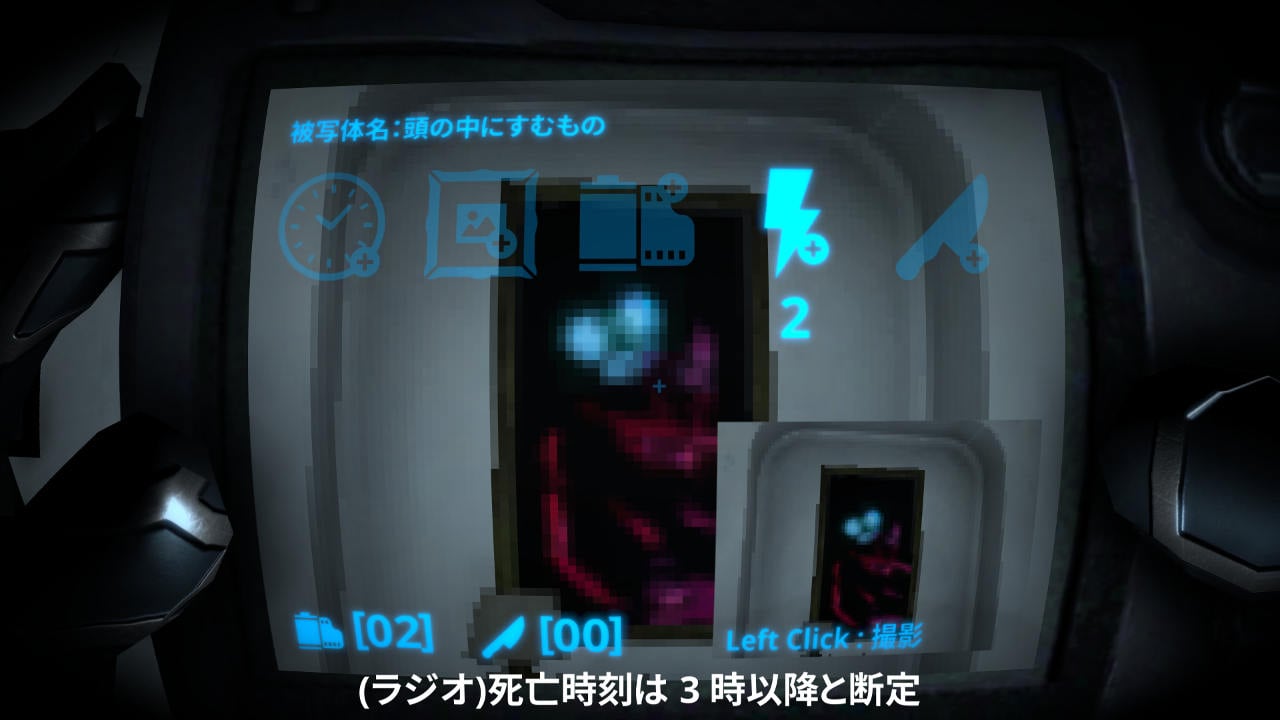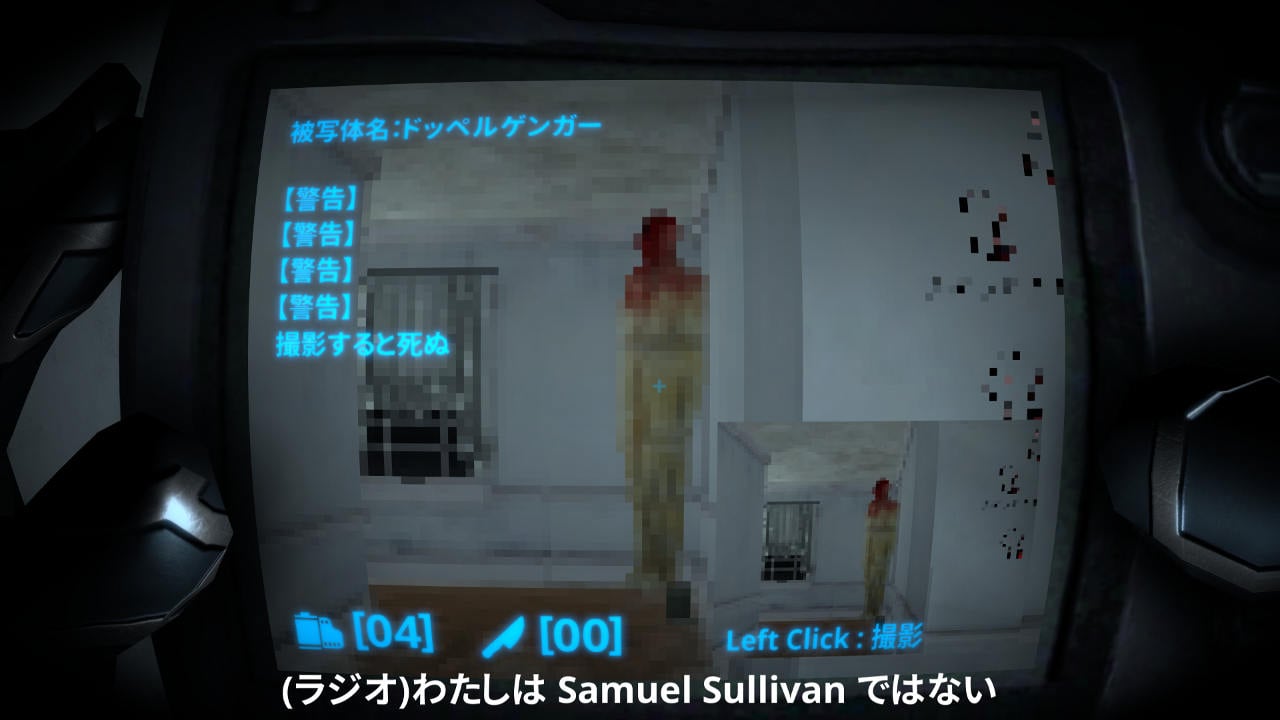 Screenshots from the free version of Playable MockupDeveloper 727 Not Hound has released a number of free horror games up to this point. As the name suggests, Playable Mockup is a playable prototype of a game still in development. The Playable Mockup coming to Steam is an enhanced version of the free Playable Mockup that's available on the Japanese website Freem! with additional photography subjects and balance changes.
Playable Mockup can be found here on Steam. 727 Not Hound is currently developing a new game called Photogenic Minds based on Playable Mockup (related article).
03
Cove.tool cofounders (from left) Daniel Chopson, Sandeep Ahuja, and Patrick Chopson built a platform that drastically cuts down the amount of time it takes to analyze a building's energy efficiency. They raised $5.7 million.Cove.tool
Proptech firms were already hot, but the pandemic lured more VCs to invest in them than ever before.
Real estate and construction tech tools became essential to many businesses once they went remote.
These pitch decks reveal how 25 different startups pitched their visions and products to investors.
See more stories on Insider's business page.
The real estate and construction industries are undergoing a major tech transformation, as startups touting everything from online home-buying to interactive office management software attract millions of dollars in venture funding.
While the property technology space, known as proptech, grew in size and dollars raised year over year, it has exploded during the pandemic. Stragglers who hadn't yet adopted digital workflows were forced to, and venture capitalists have been pouring money into the firms offering compelling new products in residential real estate, commercial real estate, construction tech, and short-term rentals and hospitality.
Insider has collected 25 pitch decks that the most successful firms have used to raise funding from VCs and private equity firms.
Check out the full collection below. And bookmark this page, because we will continue to update it with new pitch decks.
Residential real estate
Andrew Luong (left) and Justin Kasad, who raised a $39 million Series A for their single-family rental startup Doorvest.Doorvest
Residential real estate, more than any other segment of the market, has been on fire during the pandemic, with home prices and rents in almost every corner of the country skyrocketing. Venture investment into the tech that powers the industry — and helps take it online and streamline formerly tedious processes — has followed. Startups that help investors purchase and manage homes from afar, tools for residential brokers and leasing agents, and digital closing companies that digitize paper-heavy real estate transactions have all raised impressive sums.
Story continues
Commercial real estate
Nick Gayeski, cofounder and CEO of Clockwork Analytics, which raised $8 million for its platform that monitors building ventilation.Clockwork Analytics
Even though COVID-19 left many offices partially filled and retail stores vacant for months, startups that help companies make their spaces virus-safe — by, say, keeping track of social distancing or monitoring building ventilation — became extremely important. Firms that promised to reduce friction (and costs) in day-to-day operations by digitizing them also attracted venture investment.
Construction tech
Mosaic cofounder and CEO Salman Ahmad works on ways to build homes faster and cheaper. He raised $14 million last year.Mosaic
The pandemic boosted traditional construction companies' interest in the high-tech corner of the sector. Startups that make digital tools to manage worksites from afar suddenly became indispensable, while the current housing shortage brought even more attention to companies that are developing ways to build faster and more cheaply.
Short-term rentals and hospitality
Founder and CEO Roman Pedan raised $30 million for his short-term rental startup Kasa.Kasa
Early in the pandemic, hospitality businesses stalled as travel halted across the globe. Once things opened back up, short-term rental companies with rural locations or a presence in smaller cities started to see the reservations — and funding — pour in. Tech-enabled companies rivaling Airbnb that enable flexible tourism, digital nomadism, and remote work have benefitted from the resulting boom in travel.
Driven by its passion to represent the underserved, Louis Law Group has improved its personal injury services to simplify the legal processes for its clients. Now, victims of truck accidents can file their cases online and receive constant communication on the status of their claims.
More details can be found at https://louislawgroup.com/hire-personal-injury-lawyer/truck-accident/
The updated legal services continue the mission of the law agency to help all those whose lives have been directly affected by someone else's negligence. The firm says that despite the pandemic, the number of truck accident cases in the state continues to rise, especially around Broward County.
According to The Florida Department of Highway Safety and Motor Vehicles, there were around 34,000 crashes alone in Broward in 2020, with 235 fatalities, and approximately 19,000 injuries. It is unknown how many affected families were able to receive financial compensation for their loss or injury.
With these numbers in mind, Louis Law Group decided to further improve its services so that affected families and individuals can file a claim safely in their homes. The firm encourages clients to schedule an initial discovery call with them at no cost. After the call, and if the client wishes to pursue their case, they will receive a detailed plan from the agency.
The personal injury lawyers will then work with their clients to maximize the chances of a favorable outcome for their cases. Further, the law firm emphasizes the importance of transparency and always informs their clients on where the cases are and the next steps that need to be taken.
The law firm also handles motorcycle accidents and other incidents leading to personal injury.
A spokesperson for the law firm said, "The experienced truck accident lawyers at Louis Law Group know all the steps that need to be taken after you've been involved in a truck accident. You need someone that will watch out for your best interests, especially when you consider that trucking companies are known to intentionally destroy evidence that could be used against them."
Interested parties can find more information by visiting https://louislawgroup.com/hire-personal-injury-lawyer/truck-accident/
Contact Info:Name: Pierre A.LouisEmail: Send EmailOrganization: Louis Law GroupAddress: 290 NW 165th Street M-500, Miami, Florida 33169, United StatesPhone: +1-954-676-4179Website: https://louislawgroup.com/
Release ID: 89075456
If you detect any issues, problems, or errors in this press release content, kindly contact [email protected] to notify us. We will respond and rectify the situation in the next 8 hours.
Press release content from KISSPR. The AP news staff was not involved in its creation.
https://apnews.com/press-release/kisspr/business-accidents-0ac97044cafc16b9e0f3e31f2b76a090
Click to copy
05/09/2022, New York, NY // KISS PR Brand Story PressWire //
 US Attorneys present a digital platform for the United States citizens to find the accident lawyer at their fingertips. As an accident victim, you do not need to go anywhere else seeking for an attorney when you are in the midst of a grave crisis. Time is also a constraint for contesting an accident or arrest, and each moment counts. Moreover, when different kinds of attorneys are claimed to be the best, it is quite tough to find the right and best attorney.
Usattorneys.com gives you direct access to the leading and highly acclaimed lawyers in your area and to whom you trust. Through the site, you are ascertained to find the best lawyer who will take your case and ensure you get the compensation that is rightfully yours.
Through website you can connect with your lawyer from anywhere in the country or for any legal matter you might think of. Whether you are a plaintiff or the defendant, the lawyers will take your case and work on to secure you monetary compensation.
It is a repository of the legal attorneys in the United States. All you have to do is look at the hometown and the type of attorney you need to find you will get connected with the lawyer.
The Golden State has a long reputation for the highest number of fatal car accidents in the country, and most of the accident cases are in Los Angeles. Accidents can leave the life of a person and the whole family jeopardized. It also gives a tremendous step back, a person has to bear the cost of medical bills, repair of a broken vehicle, and in some situations, can lose the job. It is a physical, mental, and financial traumatic situation, and only an expert attorney will come to your aid.
With a qualified accident lawyer with you, you do not have to worry about liability charges or fraud of wrongful accused. An experienced lawyer will work on your case and ensure quick possession of the claim amount. The lawyer will also work with the insurance companies to receive the claim of the insured amount. You will get all the resources you require to establish a case according to the law and give all the help in overcoming the lengthy and confusing process of the case.
The lawyer can also help seen no economic damage like social and psychological trauma. You might have to struggle with anxiety, depression, or mental health problem, which is a reason enough to seek monetary compensation.
US Attorneys is a one-stop solution for finding a lawyer for a quick remedy and redress your issues. US Attorney will get you covered.Media Details:Pcharles@damg.com
Via KISS PR Distribution – Media Contact: Az@kisspr.com
Source: Story.KISSPR.com
Release ID: 256003
This content is published on behalf of the above source. Please contact them directly for any concern related to the above.
As the leader of MacElree Harvey's personal injury practice, local lawyer Tim Rayne has been helping Chester County accident victims receive fair treatment from insurance companies for over 25 years. It is why he became lawyer and what drives him every single day to tirelessly strive to get justice for his clients.
Since graduating law school, Tim has always been a different kind of personal injury lawyer from those portrayed as "ambulance chasers" or on TV promising "big cash payouts".
Said Tim, "I think a Personal Injury case is about accountability and fairness. In a typical case, the Defendant has broken a safety rule and has caused unnecessary injury and should be held accountable to make the community safer. At the same time, the victim has suffered injuries and has expenses that deserve to be fairly compensated. My mission is to win that fair compensation."
Tim is one of Chester County's own. His local roots run deep. He was born and raised and has lived nearly his entire life in Kennett Square. Tim's parents, Malcom Rayne and Susan Woodward were both local schoolteachers (in fact, Tim's father was his 5th grade teacher). Inspired by two uncles who were local lawyers, George Brutcher/Kennett Square and Tim Barnard/Media, Tim wanted to be a trial lawyer from a very young age. He was also always entrepreneurial. He started a car wash business as a young teenager, a firewood cutting business in high school and eventually a house painting business in college working his way through the University of Delaware operating the business between classes. Working full time, he went to law school at night at Widener University, where he met his now wife of nearly 30 years, Amee. In his last year of law school, Tim got a clerking position with local legal legend, William Gallagher who headed up the full-service Chester County firm, MacElree Harvey and the rest is history. He has been at MacElree Harvey for his entire 25-plus-year legal career, ascending from Clerk to Associate to Partner and member of the firm's Executive Team.
And it is quite a law firm to be proud of-top resources, top lawyers and staff and more. MacElree Harvey has been recognized by U.S. News and World Report as one of the "Best Law Firms in America" and by the Philadelphia Business Journal as one of the "Best Places to Work in PA." MacElree Harvey has offices located in West Chester, Kennett Square, Philadelphia, Centreville and Hockessin, Delaware.
Today, Tim handles a wide variety of personal injury matters: car, truck, motorcycle, and pedestrian accidents, slip and falls, dangerous product cases, dog bites and medical malpractice. "I love the fact that although I focus my practice in one area of the law, every case is different. I am a storyteller. I dig deep to get to know my client and try to truly understand how and why the accident happened so that I can tell a compelling story and win a fair recovery for my client. My goal is also to teach the Defendant a lesson and make the world a safer place."
Tim has had some crazy cases in his career: a client who was seriously injured in an operating room fire, a car accident caused by horses that escaped from a local farm and crashed through a car window, and even a man shot in a hunting accident.
In addition to representing clients, Tim has made it one of his missions to educate the public on how they can protect themselves and their families with proper insurance choices. Tim's book, Protecting Your Family from Accidents, his hundreds of YouTube videos, blogs on his website, www.timraynelaw.com, articles in the Daily Local -are all aimed to educate people on important legal topics and keep them safe.
"One of the most satisfying things to me is when something I've talked about in my articles or videos helps someone. For example, a close friend of mine was seriously injured in a car accident, and I was able to get him a fair recovery solely because he had read my articles and seen my videos about the importance of purchasing Underinsurance coverage."
Tim's offices are in Kennett Square and West Chester. In his free time, Tim loves traveling with his wife and his two children, Sierra and Mac and enjoys golf, paddle tennis and, yes, surfing. Ask him about it.